Last Updated on June 22, 2022
How to Estimate Rehab Costs Fast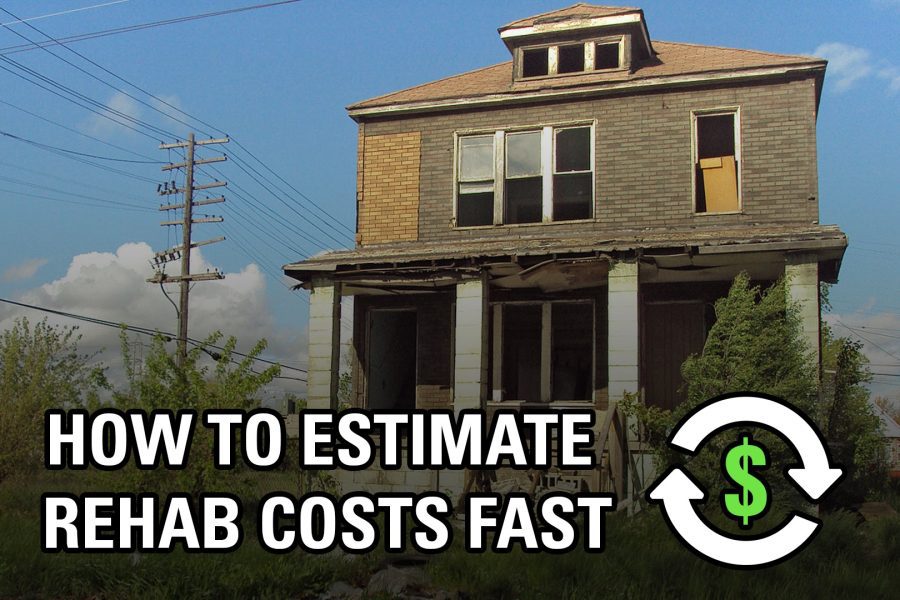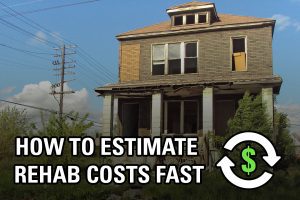 If you have considered investing in real estate, or if you're a seasoned investor with years of experience, you're probably aware that any fix-and-flip property that you purchase will likely come with a number of renovations that need to be made to it. The most successful house flippers are able to determine what type of work will need to be done beforehand, how much money it will cost, and how much time it will take to rehab the property.
In this article, we'll show you how to estimate rehab costs for potential investment properties so that you can have a solid understanding of what you're committing to before purchasing a property. Keep in mind that all real estate investment scenarios are unique and have different needs and requirements depending on the circumstances.
Table Of Contents
What Are Rehab Costs In Real Estate?
Why Should You Estimate Rehab Costs Before Purchasing An Investment Property?
How To Estimate Rehab Costs In 5 Steps
Study Your Market
Inspect The Property
Create A Scope Of Work
Find A Contractor
Compare Quotes And Add A Contingency
IV. What Are Some Factors That May Impact Rehab Costs?
V. Conclusion
What Are Rehab Costs In Real Estate?
When you decide to buy and flip a house, rehab costs for a property will typically include all money that is spent on materials, tools, and labor. Rehab costs are also frequently referred to as repair costs or renovation costs. 
Why Should You Estimate Rehab Costs Before Purchasing An Investment Property?
Estimating rehab costs before deciding to invest in real estate is absolutely critical. At the end of the day, you will only be successful as an investor if your potential profit from fixing and flipping a property outweighs the costs of renovating it. 
Rehab costs make up a large part of the expenses spent when acquiring an investment property, which makes it absolutely necessary to get an accurate estimate for any potential property purchase beforehand.
How To Estimate Rehab Costs In 5 Steps
Step 1: Study Your Market 
The first step in estimating your rehab costs is to determine what actually needs to be done to the property. Before you start calculating rehab costs, it's important to have a vision of what the final product will look like. Depending on what level of finish you or your buyer are aiming for, your renovations could take as little as a couple of days, or as long as a few months. 
Pulling comps in your area is an excellent place to start. Search real estate websites (like Zillow or Trulia), attend open houses, or check out public property records to see what other homes in the area are listed for and what features they have. After determining the standard in your area, you can decide whether or not you want to renovate above or below it. 
After pulling comps, use these to develop a list of repairs and upgrades that a potential property will need in order to make a profit when you decide to sell it. 
Step 2: Inspect The Property
Once you determine that the property has the potential for profit, the next step is to perform a detailed property inspection. This walkthrough inspection should give you an in-depth look at what needs to be fixed in order to legally rent or resell the property in your area. It is also a critical part of the due diligence process for any home purchase and is usually required by a lender.
During this process, it's important to look out for any major problems, like a roof that needs to be repaired, cracked foundation, mold, HVAC issues, and termites. These rehab tasks can quickly put your budget in the hole if they aren't factored in initially. You also can't truly understand the full renovation scope if you don't know all of the issues hidden within the house.
Step 3: Create A Scope Of Work
A scope of work is a detailed list of all of the renovation projects and repair work that will be performed at a property. There are many factors to include when constructing this list, such as:
Interior and exterior paint – Even if the paint is in good shape, it may be necessary to switch to more modern or neutral colors.

 

Fortunately, paint is usually one of the most cost-effective upgrades that can be made to a property.

Flooring – Tile pieces that are cracked and carpet that is worn in will definitely need to be updated. Hard-wood flooring may also need to be replaced or repaired depending on the condition it is in.

HVAC – Heating, Ventilation, and Air Conditioning. Your real estate agent should have information on how old the system is, which can help you decide whether or not to replace it. If it is in good working condition, you probably don't need to replace it, which will save you a significant amount of money.

 

Roof work – The age and condition of a roof can have a large impact on how much you're able to sell a house for. If there are holes or leaks in the roof, this is something you'll want to take care of before selling the property.

Electrical and lighting – If your home inspector flags any electrical items, you'll want to prioritize the repairs above nearly every other item on the list. Renting a home with faulty wiring is illegal in most cities, and if you're trying to flip the property be aware that many buyers will walk from a home that has electrical issues.

Plumbing – Your home inspector should make you aware of faulty pipes and existing water damage. Be careful when picking projects to repair water damage. Covering up evidence of this damage can get you in a lot of trouble down the line.

Baths, including cabinetry and fixtures – Modernizing cabinets can sometimes be as simple as painting them. Talk to your contractor about rehab options.

Kitchen, including appliances and countertops – Consider the type of appliance that is being purchased and the finish for the countertop carefully. Expensive items in a lower-end home are often a waste of money, while cheap items in a higher-end home will make it very difficult to sell.

Landscaping, sheds, and porches – Carefully consider whether it makes sense to rehab or demolish damaged out-buildings.

Pools – These usually require a different contractor who specializes in pool repair if repairs need to be made.

Pest control, including correction of damage from termites.
When compiling your list, you should also consider these questions that many real estate investors often overlook:
What is the condition of the flooring? Can carpets or laminate simply be cleaned, or do they need to be replaced?

Are the walls in good condition?

 

What needs a new coat of paint?
Are the kitchens and bathrooms up-to-date?

 

Can they be made more modern with paint, or are there features that need to be torn out and replaced?

What is the condition of the landscaping?

Are there any other obvious items that need to be removed, cleaned up, or replaced?
Your scope of work will vary greatly based on whether you intend to rent out the house or flip it. Houses that are going to be upgraded in a few weeks or months and resold will need to have a rehab budget that focuses on cosmetic upgrades.
The purpose of these investments is to improve a property so that it can sell for a higher price than it was purchased for. That means the focus needs to be on upgrades that add to the perceived value of a property.
Step 4: Find A Contractor
If you plan on hiring labor for your home renovations, your next step is to start interviewing contractors. Good contractors can often be found through recommendations from your real estate network, online resources, or even the recommendation of your real estate agent. Make sure to thoroughly consider customer reviews when selecting contractors to help rehab your property.
Step 5: Compare Quotes And Add A Contingency
The final step in the rehab cost estimating process is collecting quotes for every renovation on your list. When comparing these quotes, it isn't ideal to simply choose the lowest bidder for each project. Availability of the contractor, quality of the contractor, and time to complete the project can have a big effect on costs if you're investing in a fix and flip house.
Once you've selected contractors, plan on adding a 5 to 10 percent contingency for all work. This will cover the costs of additional materials and labor that may be needed if a problem arises along the way.
What Are Some Factors That May Impact Rehab Costs?
Quality of finishes
Finishes in homes can consist of facing, plastering, woodworking, flooring, painting, wallpapering and glazing. Laminate finishes cost a fraction of the price of hardwood. Granite countertops can be triple the cost of laminate ones. It is possible to greatly increase a rehab budget by choosing more expensive finishes. While nicer finishes may be more expensive upfront, they can serve as a major selling point once you go to sell the property.
While utilizing cheaper finishes can be a good strategy in low-end properties, it is a bad choice in higher-end properties, because it will make them much more difficult to sell. When choosing finishes, look into the comps for your property and choose materials of similar quality.
Price of materials
The price of materials can vary a lot based on market conditions. For example, the price of wood may be significantly higher today than it was three years ago based on inflation, supply chain issues, and local market demand. These are all huge factors that can affect the price of materials.
Location
Market conditions in your area can play a huge role in all aspects of a project. High wage scales and high construction demand will result in much higher prices overall than areas without these conditions.
Time frame
You can typically expect to pay more for a project if you need it completed immediately. Factor in a high amount of skilled labor, and that will increase the price point even more.  If your project timeline is dependent on certain projects being completed quickly, be sure to incorporate this higher cost into your budget.
Cost of labor
Oftentimes, skilled labor is often the most expensive part of a rehab project. Costs for labor can be dependent on market conditions such as availability and local wage scale.
Some contractors try to save money by replacing skilled labor with less skilled or unskilled workers, however this can be extremely risky because it's often more expensive to correct mistakes made by workers who don't know what they're doing.
Conclusion
Real estate investing can be an extremely rewarding career field, but it does involve significant planning and research. Coming up with a scope of work that includes costs estimates is often a drawn-out process that requires days of research. However, it is an absolutely critical part of the fix-and-flip process because it ensures that you'll be able to turn a profit on the investment property. 
While estimating rehab costs can be extremely beneficial, they are not always entirely accurate. Each project is individually unique, and there are always unexpected occurrences that arise when investing in real estate. But, by putting in the time to research rehab costs and going the extra mile to produce estimates, you're likely to save yourself hundreds, if not thousands of dollars in the long run.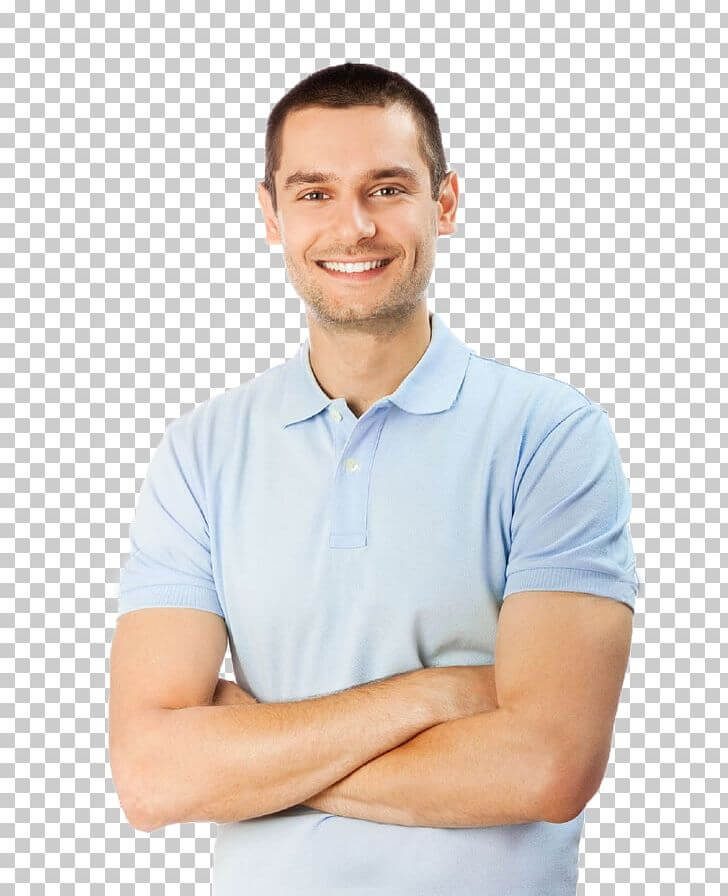 Adam Smith has spent the last 5 years in the Private Money Lending world helping real estate investors secure financing for their non-owner occupied real estate investments.  When he's not thinking about real estate, Adam is an avid Jazz music fan and fisherman.