Best House Flipping Courses in 2022
Whether you're looking for a side hustle to provide additional income to the job you already have, or if you're hoping to start on a completely new career path in life, flipping houses may be your opportunity to do so. 
In the media and in entertainment, flipping houses may seem like a fool-proof venture with no downsides or consequences whatsoever. However, in order to be successful in the house flipping business, it must be done the right way. It requires plenty of practice and the ability to learn from your mistakes along the way. 
But, with a positive attitude, patience, and access to the right resources, you could create a successful house flipping business faster than you might imagine. Let's take a look at some of the best house flipping courses of 2022 to get you started on your real estate investing journey.
Harvard Extension School: Real Estate Investment Graduate Certificate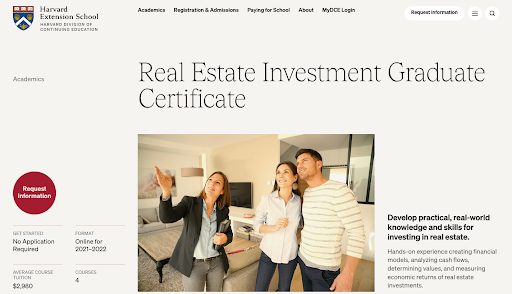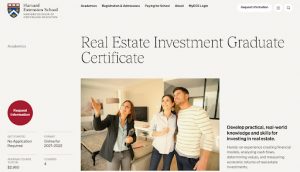 The Real Estate Investment Graduate Certificate from Harvard Extension School is an excellent course to start with if you're interested in learning more about house flipping and real estate as a whole. The certificate is designed to help students develop practical, real-world knowledge and skills that they can apply to the real estate industry upon completion. 
To meet the requirements for the certificate, you must complete the four certificate courses for graduate credit, earn at least a B grade in each course, and complete the courses within three years. The certificate courses include principles of real estate, real estate financing, real estate enterprise management, as well as an elective.
You can complete the certificate fully online, and the tuition cost is $2,980 per 4-credit course. While this may seem steep initially, you have the opportunity to acquire an immense amount of knowledge in a short period of time, therefore expediting your process to becoming an expert house flipper. 
Secrets of Buying Auction Properties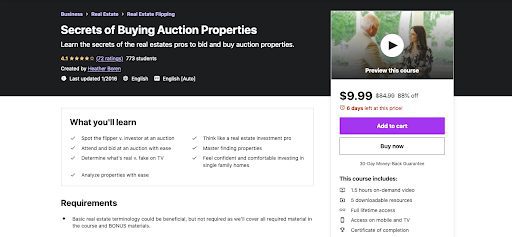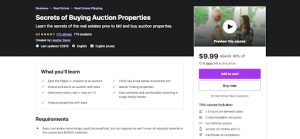 "Secrets of Buying Auction Properties" is a course that examines single family homes as an investment property class, what trustee foreclosure auctions look like, and provides you with the tools you need to successfully bid and compete with other flippers and investors. This course utilizes scientific research, case studies, and personal experiences to provide you with winning techniques and key insights when it comes to the real estate market. 
The course will teach you to understand the primary differences between how a flipper and an investor analyzes an undervalued property. More importantly, it will expound on how this analysis impacts auction day and what to be prepared for in order to successfully find the right house. 
This course starts at $9.99 and is an excellent option for both seasoned and beginner investors, real estate professionals, and those who have never purchased a property before. 
House Real Estate Flipping Business Plan Template & Example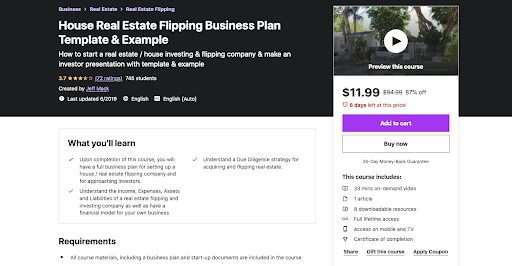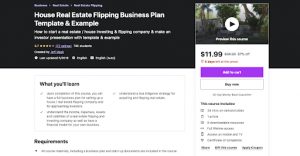 The "House Real Estate Flipping Business Plan Template & Example" course from Udemy will allow you to create a full business plan, financial projection and pitch deck for starting a real estate flipping and investment company using a high quality business plan template package.
The high quality hybrid business planning document set, a mix between a template and a sample, will enable students to learn to customize each document for their very own house flipping business. Upon completion, the documents can be used to raise money to fund the acquisition of real estate and run your house flipping business.
This course will provide you with in-depth information to help you understand how concepts such as start-up costs, expenses, assets, income, and liabilities are involved when crafting a sound business plan. Lectures take students through each page of a Microsoft Word Business Plan, Excel Financial Projection Workbook and PowerPoint Pitch Deck, to demonstrate how these applications are utilized in a real-world scenario.
It's one of the highest-rated real estate investing courses on the platform and it often goes on special for the low price of $13.99, offering tons of value for your money.
This course is designed primarily for those who have a solid understanding of the foundation and core principles of real estate and house flipping, but could use a template to ensure that important details and specificities are carried out properly. It's one of the highest-rated real estate investing courses on the Udemy and for the price of $11.99, it's well worth the investment. 
BiggerPockets Path to Purchase Course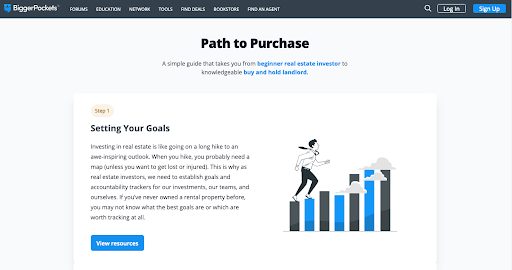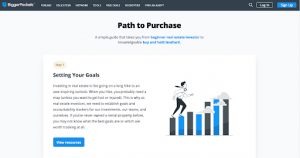 The "Path to Purchase" course from real estate investing blog Bigger Pockets is a free comprehensive guide to the real estate market. There are 16 separate sections detailing different areas of real estate, from "Networking in Real Estate" to "Finding Great Investment Properties" to "Estimating Rehab Costs". The best part about this resource is that it's not linear, meaning you do not have to complete the sections in order. Because you can access any section at any time, this enables all types of investors and house flippers to utilize this course, from beginners to experts.
Within each section, there are a variety of tools to choose from to help expand your knowledge on each topic, including books, forums, blogs, podcasts, and videos. This is an excellent resource for those who are looking for information on a specific topic within real estate, or for beginners who wish to learn more about the industry as a whole. 
The Complete Real Estate Investing: Learn to Fix & Flip, Step-by-Step Bundle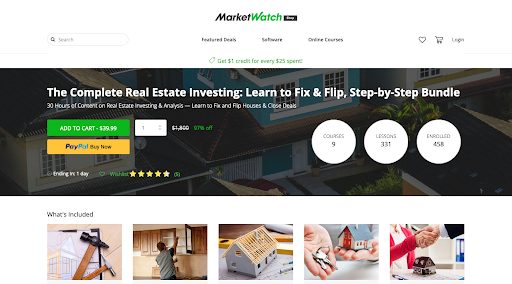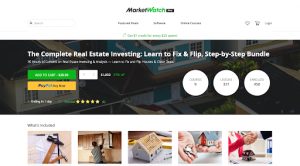 "The Complete Real Estate Investing: Learn to Fix & Flip, Step-by-Step Bundle" is available on numerous real estate investing websites, including MarketWatch, the New York Post and Entrepreneur. There are 9 courses and 331 lessons in total for the cost of $39.99. The lessons cover topics like learning to fix and flip, the fundamentals of investment analysis, property walkthroughs and much more.
This house flipping course is ideal for those who are just starting out and are looking for a comprehensive overview of real estate investing. It offers lots of value for just $39.99 and video lessons that enable you to re-watch or skip certain topics depending on what you're interested in learning about. All in all, this program is best suited for beginners looking for a general overview of the house flipping business and may not be ideal for those who need more specific information.
Creative Real Estate Investing and Flipping Houses by Freedom Mentor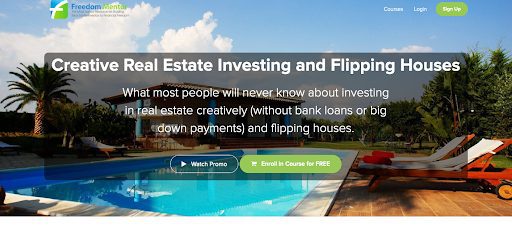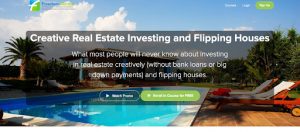 Freedom Mentor is known as one of the most trusted real estate investing mentoring and coaching services companies on the market today. Led by Phil Pustejovsky, Freedom Mentor boasts an impressive track record of producing successful real estate investors of any real estate education company in history. Freedom Mentor Reviews have become widely regarded with incredible success stories that boggle the mind. Over the past decade, it has transformed ordinary people into extremely successful real estate investors through its unique and innovative approach to the business. 
The "Creative Real Estate Investing and Flipping Houses" course is completely free for anyone who wishes to learn more about the industry. They offer a general overview of the business, as well as creative strategies that can be beneficial to both beginners and seasoned professionals.
Conclusion
One huge positive aspect of house flipping is that you don't need a real estate license to get started. You just need to understand the foundations of the real estate industry and how the flipping process really works. Therefore, all of the flipping houses courses in this article can help provide you with the baseline knowledge that you need to help you get started.
Once you are familiar with how to find houses to flip and are well-versed with the fundamentals of the real estate market, the main concern to purchasing an investment property is likely, "Where is this money coming from?". Many house flippers turn to hard money lenders in order to solve this problem. Contrary to banks or other loan providers, hard money lenders are much more likely to approve your request for a loan, especially if you have a reasonable credit score and the property that you are interested in has the potential to turn a profit.
At the end of the day, all of the house flipping courses listed will give you an in-depth understanding of the house flipping process. While whichever program or course you decide to take will depend on your goals and experience level, each will give you valuable knowledge and skills that can help you learn how to start flipping homes in no time. In addition to the paid courses, there is also a vast amount of free content on house flipping online that provides information on everything from "What Are Points on a Hard Money Loan?" to "The Best Business Structure for Real Estate Investors". All the information you need to become a successful house flipper is at your fingertips, but it's up to you to find it and use it to your advantage.
Finally, it is crucial to remember that your first couple of house flips are not going to be easy. When taking on a new challenge, oftentimes we don't know what we don't know. However, if you utilize your resources, implore patience, and stay consistent, there's a great chance that you'll be successful in the long haul.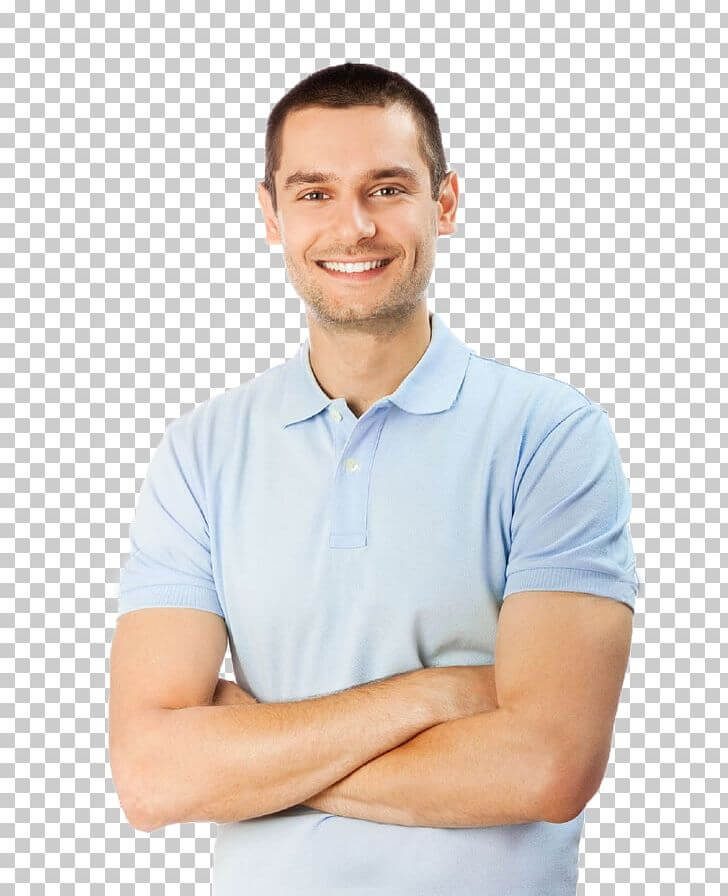 Adam Smith has spent the last 5 years in the Private Money Lending world helping real estate investors secure financing for their non-owner occupied real estate investments.  When he's not thinking about real estate, Adam is an avid Jazz music fan and fisherman.